Of Stars and Swords is, right now, in the home stretch for the first arc. We're going to be done in around ten pages! It's exciting and we're having a ton of fun reaching the point in the story we've been aiming for, and not expecting to really ever get to, since the very beginning. And in the lead up to the end of our first story arc, we decided to have some fun with background characters by inserting the likenesses of some of our comic creator friends.
While we've done four cameos, only two of them received design sketches. Why? Because we're weird that way. Or mean. So to make up for being mean, first I'll plug our two friends that didn't get concepts drawn.
First is
Sarah Roarke, creator of the comic After Daylight
. She's
on this page, in the second to last panel...dead center with pink hair!
Second is
Larry Watts
, currently the penciller on Robyn Hood for Zenescope. He's
on the last panel on this page, being grabbed by Seren and looking appropriately terrified.
Now, on to the concept art!
First up here are two characters that aren't cameos at all! Just updated designs for the Elf and Dwarf Commanders since we hadn't seen them in so long. But the third headshot here is of Jules Rivera, creator of the comics
Valkyrie Squadron
and
Misfortune High
! She first showed up
on this page
and managed to
return in the most recent one!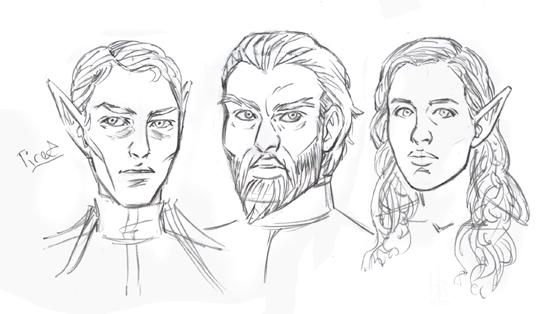 And last we have Gustav Carlson, creator of
Backwood Folk
and
Eve of the Ozarks
! He
appeared first on this page
and then
came running back again!
Caroline had to design what the Elf mages would look like for him, so there's also some work on that design here, as well.